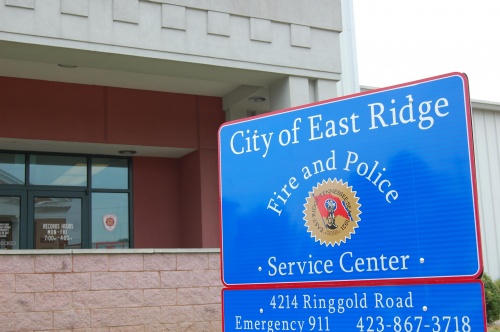 The following information was provided by the East Ridge Police Department from its "pass along" reports.
July 23 Day Shift
4214 Ringgold Road:
The complainant reported that her TN license plate was removed from her 2002 Hyundai Elantra sometime during November 2018. 
14 Laurel Lane:
Police were asked to assist EMS on a call regarding a bug bite. The patient refused to go to the hospital.
1621 S. Seminole Drive:
An alarm was activated. Police checked the residence, and everything appeared to be secure.
302 Dunlap Avenue:
Police responded to a possible medical emergency. Police contacted a subject on scene that the caller believed was having a medical emergency. The subject advised that he was only sleeping and did not hear the caller knocking on the door. It was discovered that the subject had three (3) warrants. He was taken into custody and turned over to a Hamilton County Deputy for transport to the Hamilton County Jail. While on scene, officers checked the tag on a black Nissan Altima. The check of the vehicle returned with a stolen report out of Tullahoma, TN. Tullahoma Police Department advised that the vehicle was involved in a shooting.
4214 Ringgold Road:
Police were dispatched to speak with a subject at the police station regarding possible fraudulent activity. It was determined that the incident was a civil matter.
1910 Bowen Street:
Police were dispatched to this address regarding a green Dodge truck loaded down with junk and parked outside this location.
14 Laurel lane:
Police were dispatched to this location regarding a possible burglary in progress. Upon arrival, police encountered the caller, who appeared to be having a mental health crisis. Police transported the caller to the hospital, per his request, for a mental health evaluation.
1224 Laurelwood Drive:
The caller advised that his pex tool was stolen from his vehicle.
*********************************************************************
Night Shift
Gleason Drive / South Seminole Drive:
The driver of a silver Hyundai Santa Fe cut their turn too short and struck a red Ford Focus that was stopped at the stop sign.
Cecil Lane:
Police encountered a few subjects shooting fireworks in the area. They were advised of the City ordinance and they agreed to go inside for the evening.
2001 McBrien Road:
Police were notified of a homeless man walking in people's yards. Police contacted the subject, who was not homeless and was only trying to avoid being struck by a vehicle while walking. He advised he would be more considerate of the property lines of others.