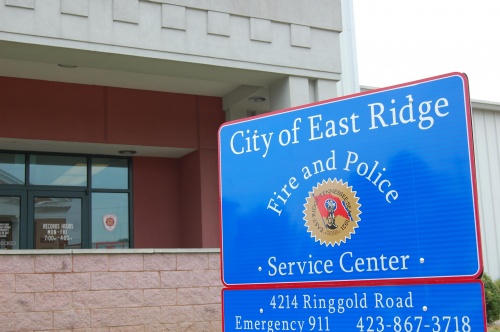 The following information was compiled from East Ridge Police Department "pass along" reports.
June 26Day Shift
323 Camp Jordan Parkway:
A representative of Integrated Properties reported that a red 2013 Honda generator was stolen from Building 2 during the night. The reporting party was able to provide a serial number for the generator and it was entered into NCIC files as stolen. The caller advised that an older male subject with gray hair and a goatee was observed riding a bicycle and looking around the area on previous dates.
323 Camp Jordan Parkway:
A representative from Tri-State Electrical Contractors reported the theft of two (2) dark orange Werner 8-foot. ladders from Building 1 sometime during the past week. 
873 Belvoir Crest Drive:
A call was received regarding an incident observed through a remote video surveillance system.  The caller advised that a heavy-set female subject wearing tight pants was observed trying to break into their home.  Police arrived on scene and encountered a woman who advised that she was selling magazine and book subscriptions for Coastal Subscriptions.  She did not have a city permit.  The woman was checked for extraditable warrants and sent on her way.  She was advised to obtain a permit before continuing her activities. 
6700 Ringgold Road:
An unknown caller reported that they observed three (3) people passing counterfeit currency. The subjects were not located.
1804 McBrien Road:
Police responded to this location after a neighbor called about a man and a woman engaging in an argument.  Both of the subjects maintained that the disorder was verbal only. 
1202 – A Greens Lake Road:
The resident reported that his tan Sun Dolphin Kayak was stolen today between 1:00 pm and 4:00 pm. 
Night Shift
6006 Ringgold Road:
Officers responded to a vehicle crash at this location. During the on-scene investigation, Carl Williams was arrested after police determined that he made false statement concerning the incident. Mr. Williams claimed that he was not driving the vehicle that caused the crash, but police found video evidence that contradicted his statements.
I-75 SB, Mile Marker 345:
East Ridge Police assisted the Catoosa County Sheriff's Office in locating a truck that had exited the roadway. A passerby reported that the truck left the roadway and went down an embankment but could not provide a precise location. The vehicle was found, and the driver appeared to be unhurt.
1303 Sewanee Drive:
A female resident called police because her juvenile daughter was refusing to give up her phone and laptop.  Police spoke to the juvenile, who eventually gave the electronics to her mother.  While police were leaving, the juvenile locked herself in her room with a knife.  The juvenile opened the bedroom door for police. 
Sheridan Road:
Two women were in a disorder because Crystal parked her car next to the stairs when April came home from grocery shopping.  Both parties agreed to stay away from one another. 
3400 Lisa Drive:
A juvenile was reported as having left his home. The juvenile was said to be autistic, bipolar, and has dissociative attachment disorder.
1410 Mack Smith Road:
A female resident of the Budgetel called in stating her boyfriend had overdosed.  Police found him on his back in his room unconscious.  Police delivered one dosage of Narcan and did sternum rubs to the man, but he was unresponsive.  East Ridge Fire Department personnel arrived on scene and delivered one more dosage of Narcan and the man regained consciousness.  He stated that he snorted one Roxy.  He was transported to the hospital for further medical treatment. 
Belvoir Avenue / North Terrace:
East Ridge Police assisted the Chattanooga Police Department and the Tennessee Highway Patrol on a felony stop of a kidnapping/shooting suspect out of Cleveland. The suspect was taken into custody and a weapon was retrieved.
South Moore Road / Ringgold Road:
Three (3) thirteen-year-old females were found to be joyriding in one of their parent's vehicles when they were stopped at this location for driving without headlights. The juvenile driver's mother responded to the scene and took responsibility for all three (3) females.