The following information was collected from ERPD "pass along" reports.
September 19– Day Shift
5738 Ringgold Road (Warrant Service):
Dustin Kenneth Everett was taken into custody for several warrants out of Hamilton County following a suspicious activity report at this location.
601 Walnut Street (Warrant Service):
Tommie Lyons was served with several East Ridge warrants while in custody at the jail.
*********************************************************************
September 19 – Night Shift
1000 Greenslake Rd (Suspicious Activity):
Police observed a Hispanic female sitting on the side of the roadway. The female was identified as Melissa Martinez, who stated that she was looking for a wi-fi signal for her phone. Field interview conducted.
1417 Mack Smith Rd. (suspicious persons):
Police were dispatched to the area of Slater Road and Mack Smith Road regarding two males refusing to leave the property. Upon police arrival, contact was made with a male party who was wearing a blue tank top, ball cap, and blue jeans. While police were speaking to this person, another male began walking away. Police called for the male to come to the patrol car but refused. The male began fleeing on foot. Police pursued the suspect into another parking lot across Mack Smith Road. Police were able to apprehend the suspect, Grady Porter. Mr. Porter was charged with evading, possession of meth, possession of drug paraphernalia.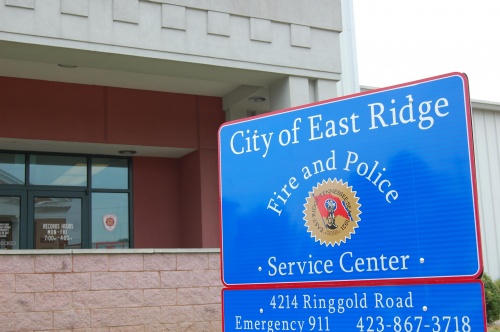 3618 Altamira Drive (Theft):
An unknown male and female in a beige Chevy Tahoe stole a package off the porch of this address then threw the empty box onto John Ross Rd. inside the package was an air filter for a Lexus valued at $20.
4300 Ringgold Road/Traffic Stop:
Amber Patterson was arrested on two East Ridge Warrants after a traffic stop at this location.
*********************************************************************
September 20 – Day Shift
1412 Mana Lane- Civil Issue/Disorder:
Holly Reeves was arrested and transported on Hamilton County warrants.
915 South Seminole Drive (Ridge Terrace)- Auto Theft:
Upon arrival police spoke with the complainant. She stated her 2007 Honda Shadow motorcycle was last seen on Thursday 09/19/2019 at approximately 2200 hours. It was parked in a parking space on the east side of the building close to her apartment. She stated she noticed it missing on this date at approximately 0700 hours. Vehicle has been entered in NCIC as stolen. There are no suspects.
200 Windmere Drive- Suspicious Activity/Aggravated Assault:
Upon arriving in the area police were notified by a woman that she had been approached by four black juveniles. She stated one of the juveniles had pointed a handgun at her. She quickly started her vehicle and pulled away. Officers located four black juveniles matching the description given by the woman and several callers at the corner of Brookwood and Lynncrest. The juveniles were confronted by police and three were detained. One black male fled on foot north through yards. He was wearing a white shirt and khaki pants Three juveniles were taken into custody and transported to JDU. Sometime later the fourth juvenile was located. When arrested he was still in possession of the firearm. He was transported to JDU.
6408 Ringgold Road (Dunkin Donuts)-Suspicious Person:
The caller advised of a white male subject asleep in their lobby. When police arrived, they encountered the subject, who identified himself as James Horton. A warrant check showed several non-extraditable warrants in GA and AL. After Horton was released officers discovered that dispatch had given back the wrong information to officers on scene, none of it matching the subject's information. Officers were unable to locate the subject at this point to verify his information.
3904 Ringgold Road (Melodee's Restaurant)- Burglary/Theft:
The owner advised since September 13th approximately $1,300.00 dollars has been stolen during the nighttime hours from the business. While checking the area it was discovered the rear door to the business had pry marks around the latching mechanism. After watching video of the incident police observed a larger build person wearing a hoodie and work style pants in the office of the business at 0437 hours on this date. CID was contacted and responded to the scene for further investigation.
4400 Ringgold Road (East Ridge Middle School):
Delayed Assault- The juvenile caller and his mother came to the police department to report the juvenile had been assaulted by a teacher during an altercation with another student. The report was taken and will be forwarded to the SRO.
*********************************************************************
September 20 – Night Shift
900 Spring Creek Road/Citation-Misdemeanor:
Eddi J. Swanson was issued a misdemeanor citation for Driving While License Suspended after being stopped for speeding.
5703 Lazard Street / Theft:
The resident called to report a theft.  Five fishing rods with fishing reels and a depth finder had been taken from his boat sitting behind his house.  It happened sometime between 09/08 and 09/20.  Total value was approximately $1700.  There is no suspect information.
4214 Ringgold Road / Miscellaneous:
Two juveniles showed up at the police department with their parents to report an explicit video circling around ERHS that involved one of the reporting juveniles. A miscellaneous report was done with the information that was given. The information was forwarded to the SRO at ERHS.
5433 Dupont Street / Property Damage:
The resident called to report what appeared to be a gunshot through her window and into her apartment.  It appeared that the projectile entered through the window and traveled through multiple walls.  Multiple neighbors advised they heard was sounded like a gunshot at approximately 1630 hours, but did not report it.  CID was notified and responded. 
*********************************************************************
September 21 – Day Shift
Catoosa county advised they were behind a bolo'ed carjacking vehicle/suspect on Mack Smith Road when they lost sight of the vehicle around the state line. They advised the vehicle was traveling toward East Ridge. The bolo was for a black 2013 Mustang (1M40E4 TN) driven by a black male armed with a black handgun. The vehicle was carjacked in Chattanooga.
4214 Ringgold Road:
Warrant Service- Demetrius Dodds was detained and transported to 601 on Hamilton County warrants following a traffic crash.
4214 Ringgold Road:
Warrant Service- Rodney Dascko was detained on Hamilton County warrants following a traffic stop. A deputy responded and transported him to 601.
4214 Ringgold Road:
Warrant Service- Timothy Sims was served an East Ridge warrant at 601.
6100 Ringgold Road- Wellbeing Check:
The caller advised of a male laying in the grass at this location. Upon arrival police located a homeless male that had stopped to take a nap. He was advised to move along.
6701 Ringgold Road (Shell Gas Station)- Unwanted Person/Psychiatric Emergency:
The caller advised of a white female on the lot refusing to leave. Upon arrival in the area police located the female in the lot of 6703 Ringgold Road (Dixieland Fireworks). She was identified and observed to be in some sort of distress. She was transported to Parkridge East by EMS.
3623 Fountain Avenue #70 (Sweetbay Apartments)- Back Fire:
Police were dispatched with fire regarding an apartment fire. Upon arrival fire handled the call.
3836 South Mission Oaks Drive- Back Fire:
Police were dispatched with fire on a brush fire. Upon arrival the fire was extinguished.
1301 A Ridgefield Circle- Unknown Trouble:
Police responded and found the resident to be in medical distress. He was transported to Erlanger by EMS.
**************************************************************
September 21 – Night Shift
6116 Ringgold Rd. / Auto Theft:
The caller reported his girlfriend's vehicle had been stolen from this location while he was inside the store. Police were able to recover the vehicle a short time later at McDonald Rd. and State Line. The vehicle was returned to the registered owner.
4222 Ringgold Rd. / Narcotics:
Police made contact with Summer Carruth at this location after the odor of marijuana could be detected emitting from within the passenger compartment of her vehicle. After a short altercation Carruth was taken into custody and charged with tampering with evidence, possession of methamphetamine, and assault on police.
4404 Vester Lane / Domestic Disorder:
Danelle Richard was arrested for domestic assault after she scratched and hit her boyfriend in the mouth. She was also charged with disorderly conduct and resisting arrest. Conditions were served.
10 Laurel Lane / Domestic Disorder:
Brad Hannewald was arrested for aggravated domestic assault after his wife stated he threw her onto the ground and choked her during an argument over his tone of voice. She had red marks on her neck consistent with her statements. Conditions were served.
1004 Justine Lane / Domestic Assault:
Juvenile daughter involved in physical altercation with her mother. Mother struck in the mouth causing her lips to bleed and was bitten on the left ear. Juvenile daughter was deemed the primary aggressor, taken into custody, and transported to JDU.
4000 Bennet Road / Animal Bite:
10 year old juvenile girl attempted to coax the family dog back into the house after another juvenile opened the door and let it out. The 10 yo was bitten on the right wrist leaving a laceration and two puncture wounds on the wrist. EMS transported the juvenile to TC Thompson's. Animal services seized the 7 month old Pit bull mix puppy.
323 Camp Jordan Parkway / Vehicle Burglary:
Person(s) unknown stole a black Smith and Wesson M&P .380 Shield EZ from the locked center console of a 2004 Jeep Wrangler.
*********************************************************************
September 22 – Day Shift
Camp Jordan- Back Fire:
Police were dispatched with fire on a smoke investigation in the park. Upon arrival the smoke was observed on the Chattanooga side of the creek near the cell tower site. Chattanooga fire was notified.
323 Camp Jordan Parkway (Pavilion)- Sleeping Homeless:
The reporting party, a park employee, stated there were numerous parties sleeping and bathing at the pavilion. Officers arrived on scene and contacted approximately 8 parties. Officers were unable to identify all parties but did speak with four individuals who were loading a white Hyundai SUV. They were all checked for license and warrant status. Cory Elliot was found to have an active probation violation warrant through Catoosa County. He was detained and transported to 601. Several items of drug paraphernalia were confiscated to be destroyed. The remaining three were encouraged to leave the area.
3710 Norma Drive- Disorder with a Weapon:
Police were called to the area and spoke to all parties involved. The stories told by all individuals were conflicting from all sides. Police were unable to determine a victim. A report was filed.
6500 blk of Ringgold Road- Pedestrian Struck/Hit and Run:
Police were dispatched to the area regarding a male on a bicycle struck by a car. Upon arrival the bike rider was only suffering from a few scratches and refused medical treatment at the scene. The vehicle, a Ford Thunderbird (RJL0558 GA) fled the area just before police arrival.
6200 Ringgold Road (Taco Bell)- Disorder/Arrest:
Curtis Jefferies refused to comply with officers' previous requests to discontinue his attempts at causing disorder in the streets of East Ridge. He was arrested and charged with disorderly conduct.
728 Frawley Road (Park Ridge Apartments)- Trespass/Disorder:
The caller advised two juveniles that had previously been trespassed from the property for breaking into the pool were back on the property cursing him from a wooded area. Upon arrival the unruly children had left the property.
4300 blk of Ringgold Road- Road Rage:
Police stopped a vehicle from a previous bolo stating the SUV was unable to maintain its lane on the interstate in Catoosa County Georgia. The caller that prompted the bolo followed the SUV until police stopped it in the 4300 block. Upon checking with the driver of the SUV they were happy to see police as they were en route to the police department to avoid confrontation with the other driver.
508 Norte Dame Avenue- Theft:
The resident advised sometime between 9/21/2019 around 1430 hours and today around 1600 hours she noticed the license plate (698JTP) on her vehicle was missing. The tag was entered in NCIC.  There is no suspect information
**************************************************************
September 22 – Night Shift
5408 Ringgold Road / Theft:
Police responded to the Velaro in reference to a theft. It was advised that a male party took items off the shelf worth approximately $20 and left without paying. A witness on scene stated he saw the party run East after running out of the store. The suspect is a black male approximately 20 years of age with long length hair. The suspect was wearing red shorts, no shirt, and had a tattoo on his left shoulder according to a witness. There is no other information at this time.
4214 Ringgold Road / Warrant Service:
ER warrant #126670 was served on Tammy Sharp who was in custody at the Hamilton County Jail.
18300 I24 EB / Vehicle Fire:
Police responded to 18300 I24 Eastbound to assist the East Ridge Fire Department with a vehicle fire. Upon arrival, police reported that the tractor was fully engulfed in flames. Police blocked all of the eastbound lanes of traffic while the remaining emergency services arrived. Police controlled the flow of traffic until the fire department extinguished the flames. Traffic resumed normal flow after the scene was cleared of the vehicle, trailer, and any hazardous debris.