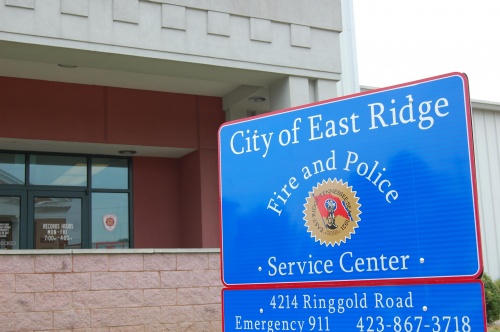 On Friday, East Ridge police captured a man wanted in Florida for sex crimes involving children.
According to a police report, a "be on the lookout" was issued for Bradley Allen Pitts. Florida officials had "pinged" the man's cellphone and determined that it was in the Interstate 75 area in the jurisdiction of East Ridge authorities.
Pitts was said to be driving a 2012 Lincoln Town Car with Florida plates. Just after 2 p.m., dispatch advised that Florida authorities had tracked the phone to North Mack Smith Road near a local motel. The report states that a few minutes later, ERPD was advised that the suspect was within a tenth-of-a-mile of the address.
According to the report, police checked the rest area of I-75 and discovered a Lincoln MKZ, not a Town Car, with the matching Florida plates. The car was parked next to a security guard assigned to the facility.
The report states that additional police officers responded to the rest area and "successfully extracted the driver from the vehicle without incident." 
The man was identified as Pitts. According to the report, when police inventoried the vehicle they found a small amount of marijuana and various drug paraphernalia.
According to the report, Pitts is wanted out of Florida on charges of Sexual Battery by a Person in Familial Authority, Sexual Battery of a Victim less than 12, Use of a Child in Sexual Performances, Possession of Child Pornography and Production of Child Pornography.
_ Mimbro Lane: Police were dispatched to an address on Mimbro, Thursday, in regard to deceptive practices. According to a police report, the victim told officers that he was phoned by someone that sounded like his grandson, stating that he had been stopped by police for running a red light. The caller said that police had searched his car and found some marijuana. The person pretending to be the victim's grandson then placed another person on the phone, identifying themselves as "Sgt. Davis."
"Sgt. Davis" told the victim that if he wanted his grandson released from jail he needed to go to Walmart and $4,000 worth of prepaid cards. The fake cop then told the victim that he would need to call "Sgt. Davis" back and provide him with the numbers located on the back of the card. The report states that the victim did what "Sgt. Davis" had requested.
After having done what was asked of him, the victim got "suspicious" and realized the call did not originate from a local area code. A little investigating by the victim revealed that the call originated from an area code in Alberta, Canada.