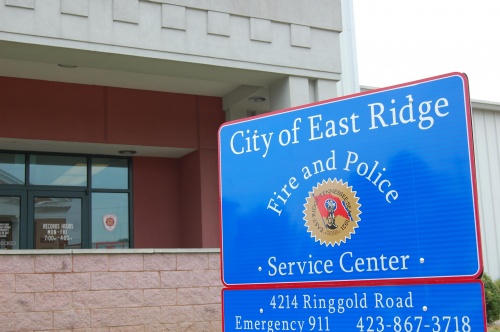 A call to East Ridge police about suspicious people at the Krystal led officers to the recovery of some stolen property, including a laptop stolen from a church two days prior.
According to police reports, officers were called to the Krystal at 6:45 Tuesday morning, after someone overheard a man inside the restaurant say that he had stolen items out of a mailbox. When officers arrived they found a man and a woman on the sidewalk. When police approached the man gave police a false name before he took off running on foot. He left behind a bag that had a number of items inside, including a laptop, checkbook and credit cards.
Police were able to match the serial number of the Acer laptop computer to one that was taken on June 19 from Edgewood Baptist Church. 
In that incident, the pastor told police that he encountered a woman in a hallway of the church at 3 p.m. He told officers the woman wanted a ball hitch so that she could tow her trailer to the flea market. The pastor offered to give her a ride, and as he and the woman were walking out of the building, a man exited the church from the sanctuary. The man was identified as an acquaintance of the woman.
The report states that the pastor later discovered that an Acer laptop, which had been sitting on a desk in the sanctuary, was missing.
The woman was described as a white, tall, thin blonde. The male acquaintance was a white male, 6-feet tall with short brown hair and tattoos on his arms. The report states that the pastor noticed that the man was carrying a grocery bag. It was believed the laptop may have been inside the bag.
Police identified the man who ran from them at the Krystal who left behind the bag with stolen items. Warrants are in the process of being issued for his arrest. 
_ 1523 Keeble St.: Police were called to Hide-Away Storage, last week, in regard to a burglary. According to a police report, the victim told officers that someone had damaged the locking mechanism to his unit and gained access. The man told police that he had seen a green Ford F150 with two white males inside driving around the area and acting suspicious.
The man reported that the thieves took several silver half dollars, tools, a remote control motor and his old commercial drivers license.
A pry bar that was left inside the unit that the victim said did not belong to him was collected as evidence, the report states.