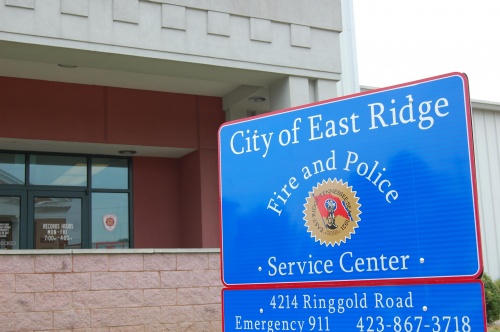 A call to police Wednesday evening by a woman trying to help her friend out of an East Ridge motel room led to the arrest of a man on drug charges.
Jacob Harrison Ward, 41, of an Ealy  Road address, was charged with Possession of Methamphetamine, Tampering with or Fabricating Evidence and Possession of Drug Paraphernalia. He is due to appear in East Ridge Municipal Court on April 17.
According to an affidavit of complaint, police were dispatched to the Motel 6 at 2281 Camp Jordan Parkway at 6:51 p.m. Thursday on a reported assault in a room. According to the woman that called dispatch, her friend had called her saying she needed "help" getting out of Room 142 at the motel. The woman told police that her friend said she was having seizures and she was in fear because the people inside wouldn't allow her to leave. The woman told police that she went to the room, knocked on the door and found her friend naked next to a white male later identified as Jacob Harrison Ward.
The report states that the woman told police that while she was trying to get her friend out of the room she was assaulted by another woman inside the motel room. This assault is what prompted calls to police.
While officers were en route to the location, the woman told dispatchers that Ward was discarding an item in the bushes outside the motel room. Police arrived and found the woman who called police and her friend who may have been having seizures inside the motel room. The report states that Ward returned to the room after walking around from the west side of the building near the pool. 
The report states that while police were investigating the complaint, the alleged victim said she had been raped inside of the room by Ward and she also said he was in possession of a firearm. The room had been rented to a third party who was not present.
After securing the scene, police found a digital scale on the bed in addition to a baggie containing a small amount (1.9 grams) of suspected methamphetamine in plain view on the floor. Based on information from the complainant that Ward had hidden items outside the room, police retraced Ward's path around the motel. The report states that officers found a gallon-sized jug containing an unknown liquid that was separating with small masses of a material settling to the bottom. Police located a gray box behind a dumpster on the property of the motel containing drug paraphernalia and 524.5 grams of suspected methamphetamine.
The report states that officers reviewed surveillance video and observed Ward placing the gray box in the bushes before taking the box upstairs to the motel room and then returning to the room without the box. The report states that Ward told police that he placed the box behind the dumpster.