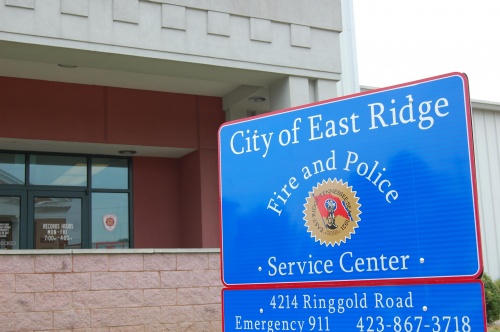 September 09 – Day Shift
21-013038- 5076 South Terrace #108 (Vacant Storefront)- Urban Campers-
The caller requested police respond and remove the homeless people camping on the sidewalk. On scene police spoke with the people and advised them to leave the area.
21-013041- 1403 Swope Drive- Burglary/Theft-
The complainant called police after she returned home and found an unknown male in her garage. She advised she confronted the white male and he advised he was hired to clear out the garage. She then called the owner of the property to ask him if he hired someone to clean out the garage. The owner advised he did not ask anyone to take the items. The complainant then stated the man left the area in an old blue car with a Georgia tag that started with RQY. The owner and complainant provided a short and not very detailed list of items that were taken.
21-013050- 300 Camp Jordan Parkway (Playground)- Suspicious Person-
The caller advised an older white male on a bicycle approached her and her son on the playground. She advised the male was acting strange and staring at them. Once on scene police checked the park but the male had left the area.
*********************************************************************
September 09 – Night Shift
21-013057 3508 Ringgold Road / Walgreens / Shoplifting:
Police responded to this location in reference to an unknown black male approximately five feet seven inches tall shoplifting approximately $340 of merchandise from the store.
21-013064 1500 block Fruitland Drive / Sexual Assault:
Police received a report of child sexual assault in this block range from CPS. Police completed a report, and CID was notified.
6700 Ringgold Road / Suspicious person (21-013061):
Chris Gonzales was taken into custody on Hamilton County warrants after a passerby called police due to him looking over the side of the bridge.
6800 Ringgold Road / Arrest (21-013074):
Kimberly Mikel was taken into custody for DUI 3rd following a traffic stop.
3715 Bennett Road Aggravated Assault x2 (21-013060) –
An argument between four individuals led to a single bullet being fired at two of the individuals.  All four were not on the scene to discuss the incident. CID was notified.
I75S @Exit 1 Pursuit- (21-013078) –
ERPD assisted a sole HCSO deputy in pursuit into Georgia until other HCSO vehicles were able to join in.
21-013079/ 4100 Ringgold Road/ AOA Warrant Service: 
Marlena Karm was taken into custody and transported to the Hamilton County Jail on an outstanding warrant from Catoosa County for possession of Meth.
21-013063: 3616 Wimberly- auto burglary:
The complainant responded to the East Ridge police station to report that a firearm was stolen from his vehicle that was parked in front of 3616 Wimberly Lane. The complainant advised that he realized at approximately 1700 hours that he had left his doors unlocked on his vehicle and that the firearm was gone.
*********************************************************************
September 10 – Day Shift
4214 Ringgold Road (warrant service):
Ramon Swavey Boyd was arrested on multiple East Ridge warrants while in custody at Silverdale. (21-013257)
6215 Dayton Blvd. (warrant service):
Tereza Sebastian was taken into custody at Community Corrections on an active East Ridge warrant. She was transported to Silverdale. (21-013097)
Stateline Road at Palm Beach (arrest):
Derek Smith pulled across the state line while being stopped by East Ridge. Catoosa County subsequently arrested Smith for theft of property and an altered tag stolen from Dayton, TN. (21-013088)
400 block Frawley Road (overdose):
Police responded to an overdose and were able to revive a female subject  with the use of Narcan. She was transported to Erlanger. Warrants were taken out against her after police found drugs and paraphernalia in her six year old's bedroom. (21-013090)
6404 Ringgold Road (drug arrest):
Clifford Hawkins was arrested for possession of marijuana for resale and possession of Diazepam for resale following a traffic stop. (21-013104)
402 S. St. Marks Avenue (theft):
The complainant with Yogi's Primo Promo observed a blonde female in a black Honda Accord remove the outgoing mail she had earlier placed into the mailbox. The outgoing mail contained six different checks. (21-013192)    
*********************************************************************
September 10 – Night Shift
6514 Ringgold Rd (Mental Health 21-013114):
A male party experiencing a mental health issue was provided transportation to Joe Johnson Mental Health by police.
3100 Ringgold Rd (AOA Warrant 21-013121):
Kendall Patton was detained on Collegedale warrants and was picked up by Collegedale Police.
300 block Frawley Rd (Arrest 21-013123): 
Jorge Hernandez was taken into custody for domestic assault.
3700 S Terrace (DUI 21-013131):
Mary Fletcher was taken into custody for DUI after officers received a BOLO for the vehicle she was driving.
3200 Ringgold Rd (Misdemeanor Citation 21-013132):
Terry Mathis was issued a misdemeanor citation for possession of a stolen registration plate.
6514 Ringgold Rd (Assist EMS 21-013133):
Police responded with EMS for a fall victim at the Mapco. The party fell from a standing position backwards. He was transported by EMS to Parkridge East.
6600 Ringgold Rd (Arrest 21-013135):
Jaylen Harris was taken into custody for possession of marijuana for resale, possession of drug paraphernalia and possession of a firearm during a felony. Officers also seized $1,048 in US currency.
6514 Ringgold Rd (Arrests 21-013137):
A suspicious vehicle was observed at the Mapco that matched the description of a vehicle involved in theft from mailboxes on 09/10/2021. A consensual encounter was made with Ms. Andrea Shubert and Geraldine Phipps. Shubert advised that there was marijuana in the driver side door. A search of the vehicle yielded a large quantity of stolen mail, methamphetamine, marijuana, Adderall, and paraphernalia. Shubert and Phipps both admitted to conspiring to steal the mail. Shubert advised she stole the mail to get money to put on her boyfriend's books in jail. Both subjects wrote apology statements.