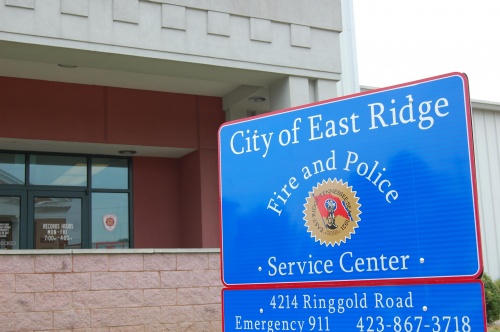 The following information was compiled from ERPD "pass along reports."
Sept. 21 Day Shift
1400 Mack Smith Road (arrest):
During a traffic stop at this location, Dustin White was arrested for criminal impersonation, possession of drug paraphernalia and a warrant out of Hamilton County. Dawn Chastain was arrested for possession of drug paraphernalia, possession of Sch. II and possession of legend drugs. (21-013686)
5418 Ringgold Road (warrant service):
Lindsey Addison was arrested on a Hamilton County warrant at this location during a traffic stop. (21-013697)
1503 McDonald Road (aggravated domestic assault):
A female subject reported being assaulted by her boyfriend, Eric Finley, overnight in the room they shared at the Waverly Motel. Finley burned her with scalding water, and the victim had burns and abrasions on her. Finley had left the area prior to police arrival. (21-013692)  
*********************************************************************
Night Shift
1517 Tombras (Arrest 21-013700):
Robert Grisham was taken into custody in East Ridge City Court on warrants.
1632 Smith (Panic Alarm 21-013709):
Lyft driver activated his panic alarm after a phone dispute with a party at this address. The driver became frustrated with police when he was informed this wasn't a criminal matter nor an emergency and he should not have activated a panic signal.
1517 Tombras Ave (Arrest 21-013710):
Marcus Brooks was taken into custody during East Ridge City Court on warrants.
1517 Tombras Ave (Arrest 21-013706):
Christy and Terry Gilbert were taken into custody during East Ridge City Court on felony warrants through Knox County.
4320 Bennett Rd (Disorder/Arrests 21-013708):
Daniel Wixom was involved in a disorder in front of the high school with some family members after they attempted to get him to turn himself in to Catoosa County. Active warrants were found on him, he was placed into custody. The driver of his vehicle, Jenifer Pruitt, had full extraditable warrants out of Missouri.
5900 block Ringgold Rd (Arrest 21-013707):
Travis Clay Allen was taken into custody for public intoxication and possession of oxycodone.
4214 Ringgold Rd (Arrest 21-013716):
Keeosha Howard was booked on East Ridge warrants at Silverdale.
6514 Ringgold Rd (Disorder/Arrest 21-013718):
Officers responded to a disorder between Delwin Lopez and an estranged girlfriend. The disorder began in Ooltewah and carried over to East Ridge. When officers initially encountered Lopez he refused to exit his vehicle to speak with police. Lopez eventually consented and recounted the events of the evening with officers. During the investigation it was learned Lopez was revoked for DUI and his restrictions stated he could only travel to and from work. Lopez is a resident of Cleveland. Police attempted to detained Lopez and he became combative. Lopez was drive stunned using a department issued Taser to gain control. Lopez was taken into custody for driving while revoked for DUI and resisting arrest.
4342 Ringgold Rd (Disorder/Arrest 21-013722):
Police responded to reports of a disorder turning into a physical fight in the drive-thru of Checkers. Officers arrived and determined Fredrick Gross, an employee, had become enraged with fellow workers and had assaulted the store manager. Gross was taken into custody for assault, disorderly conduct and was issued a trespass notice from the property.
4100 East Ridge Dr (Suspicious Activity 21-013725):
The reporting party stated a female was attempting to bust the window out of a white Nissan Altima near this address. Nothing was located by police.
2000 McBrien Rd (Arrest 21-013723):
Marlon Eberhardt was taken into custody for possession of marijuana for resale and possession of drug paraphernalia following a traffic stop for speeding.