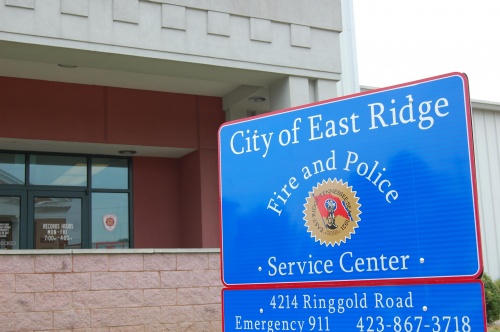 The following information was compiled from ERPD "pass along" reports.
September 10 – Day Shift
482 McBrien Rd (Warrant Arrest 22-012636):
David Hicks was taken into custody on Hamilton County warrants after he was located sleeping behind the At Home Store.
3520 Shelby Circle(Motor Vehicle Theft 22-012648):
Warrants were sought to arrest Rhiannon Hudson for theft of a vehicle.
500 S. Moore Rd (Panhandler No Number Assigned):
Police encountered a man on the corner of S. Moore Rd and S Terrace panhandling. He was checked for warrants and advised to stop his panhandling ways in East Ridge.
5418 Ringgold Rd (Vandalism 22-012649):
The complainant reported an unknown subject wearing a dark Nike hoody and jeans riding a bicycle damaged a coin machine in one of the car wash stalls at Apollo Car Wash sometime between 0730 and 0800 on this date. The complainant will be providing surveillance photos of the subject.
1417 St. Thomas St (Assist a Citizen/Disorder 22-012642):
Police responded to Motel 6 after a party requested assistance to mediate between them and motel staff. Police spoke with the reporting party who advised they were due to check out today but were going to stay because they did not want to cause conflict with their large autistic child. They were attempting to gain access to additional funds to rent the room another day. Officers spoke with the staff, who allowed the parties enough time to collect the money for the room. A short time later, police were called back to the motel after the staff had decided to not re-rent to the parties and wanted them off the property. All parties left the property without incident.
*********************************************************************                                         
September 10 – Night Shift
1410 Mack Smith Rd. (Disorder):
Police responded to a kidnapping at this location and made contact with a woman who claimed a man left with her juvenile daughter. Police determined the custody issue was civil in nature and that the incident was not a kidnapping. The woman appeared to be heavily intoxicated and became increasingly angered when police advised her that the man did not kidnap her daughter. The woman advised that the man slapped her in her face. Police were unable to determine that an assault took place. (22-012661)
5301 Ringgold Road (Narcotics Violation):
Police seized a baggie of Methamphetamine discovered by the security guard near the cosmetics section at Walgreens. Upon review of security footage, it was observed falling from an unknown, skinny female around 1300 hours. The Meth was submitted for destruction. (22-012663)
302 Dunlap Ave (Suspicious Person):
Police were dispatched to Seminole Pathe Apartments in regard to an unknown male yelling in the breezeway. Police made contact with a very intoxicated man known as Crybaby in an apartment. He requested police transport back to his room at the Budgetel. He was transported without incident. (22-012672)
5600 Brainerd Road (Auto Recovery):
Chattanooga Police located the vehicle that was reported stolen on Day Shift at this location. Rhiannnon Hudson was taken into custody at the scene by CPD. (22-012648)
3100 Ringgold Road (Arrest):
Sean Mccoy was taken into custody for Possession of a Firearm by a Convicted Felon following a traffic stop at this location. (22-012664)
600 South Seminole Drive (Public Intoxication):
Lemonte Garrett was taken into custody for Public Intoxication following a call at this location. (22-012670)
********************************************************************
September 11 – Day Shift
1417 St Thomas St (Suspicious Person 22-012677 ):
Police responded to reports of an intoxicated male knocking on multiple guest rooms doors. The male was located and escorted to his room where he was advised by officers to sleep off his night of partying.
6976 Tiffany Ln (Theft 22-012680):
A man requested to report his handgun missing. It is his belief his son, who resides with him, has the weapon. The man was so intoxicated he could not stand without supporting himself in the doorway. He was advised to call police back when he was sober and cognitive enough to actually file a report.
6510 Ringgold Rd (Arrest 22-012684):
Iverson McNish, who was wanted on numerous felony warrants and as a suspect in a vehicle theft in Whitfield County, was located by officers at this address in room 106. Once police made contact with he and his mother, he barricaded himself in the bathroom. Police kicked a hole in the door and sprayed OC into the bathroom causing McNish to exit. He was taken into custody without further incident. McNish was charged with resisting arrest in addition to his warrants.
201 Eads St (Mental Health 22-012687):
A male subject, previously encountered, once again wandered away from his apartment. Officers located him and assisted him back to his residence.
315 Camp Jordan Pkwy (Animal Cruelty 22-012688):
A man was issued a misdemeanor citation for animal cruelty after officers were called regarding a dog locked in a vehicle in the parking lot of Camp Jordan.
6700 Ringgold Rd (Theft from Vehicle 22-012689):
The complainant reported an unknown party removed approximately $600 worth of airbrushing supplies, some cash and a bag full of Pit Viper sunglasses from his vehicle between the hours of 2130 and 2330 on 09/10/22 while it was parked on the west side of the hotel. He believes his ex-girlfriend may be responsible
*********************************************************************
September 11 – Night Shift
1410 Mack Smith Rd (Arrest):
Mallari Wilson-Smith was arrested for Disorderly Conduct following a call at this location. Police were on scene investigating an alleged altercation between her daughter and a female adult. (22-012704)
1410 Mack Smith Rd (disorder):
Following a fight at this location, one of those involved called police again regarding a disorder with her child's father. The disorder appeared to be verbal in nature- the parties agreed to separate for the night to calm things down. Nothing further.
700 block Astor Lane (indecent):
Reporting party called in stating a male was in the backyard of this residence pleasuring himself. Police arrived on scene and observed the male shut the door. (22-012697)
1300 block Laredo Avenue (Rape):
Police responded to this location in reference to a rape delayed by nearly two years. On scene Police spoke with the victim who stated she felt she was coerced into sex by her then-boyfriend. Both parties were juveniles at the time. An on call CID was notified. A report was completed. (22-012699)