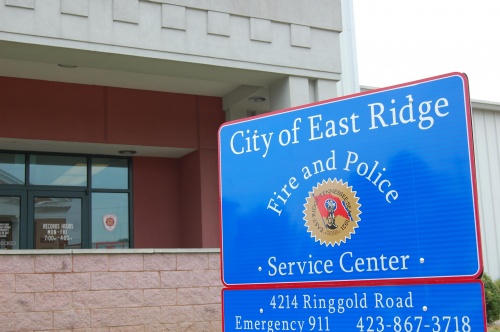 A tip from a woman to an officer sitting in her car at the East Ridge Police Department led to the arrest of two men in a local motel on drugs and prostitution charges.
According to a police report, Officer Lexi Whittenburg was sitting in her patrol car on Saturday when a woman who "has provided reliable information to me on multiple occasions" told the officer that two men in the Waverly Motel were "trying to prostitute out" a young woman.
The report states that officers responded to the motel and located room number 119 where the woman was reportedly being held. A woman answered the door and police saw that the bathroom door was closed. Police ordered whoever was in the bathroom to come out and Ernest Bulloch and Todd Davidson exited the bathroom. 
According to the report, police separated the woman from the two men and told her about the information they had received from the tipster. The woman told police that she had invited a man into her room, however, he stepped out and returned with Bulloch. The woman told officers that Bulloch began making statements about how he had men that would pay her money to see her naked. The woman said that Bulloch told her that he liked to "hustle and make money." 
According to the report, the woman told police that Bulloch had stepped out of the room and returned with Davidson, who had parked a commercial truck at the rear of the property. The woman told police that Bulloch had propositioned her to "sell" herself after Davidson had arrived. She told officers that Bulloch became verbally aggressive with her, which prompted her to retreat to the bathroom. She said that Bulloch followed her inside the bathroom and randomly kissed her and groped her. The woman told officers that she pulled away from him and went back into the motel room at which point Davidson whispered to her "they are going to try and take you."
According to the report, the woman told police at that point that she feared for her safety and continued to refuse multiple propositions from Bulloch to engage in sex for money.
The report states that Davidson told police that he was invited to the room by Bulloch. The woman and Bulloch went into the bathroom and he overheard the woman say "I don't do that." Davidson told officers that he heard the woman choking and gagging and when he went to the bathroom Bulloch had his pants and shorts around his ankles.
Bulloch, 36, of a Dodds Avenue address, was taken into custody on an outstanding warrant from Hamilton County. He was additionally charged with Sexual Battery and Promoting Prostitution. He is due to appear in Municipal Court on April 18.
When police received permission to search the room, they found several plastic bags behind the toilet containing Alprazolam and Clonazepam. Another torn baggie contained about a gram of suspected crack cocaine. Other bags were found with a small quantity of cocaine and marijuana. The report states that police found 1.2 grams of methamphetamine in Davidson's personal bag inside the room.
According to the report, when officers searched Davidson's person incident to arrest they found another bag of suspected crack cocaine in one of his pockets. The report states that after Davidson was placed in a patrol car, officers saw a cross on the floor of the vehicle that Davidson said was his. Police located 3.6 grams of suspected crack cocaine and a small amount of Psilocybin (psychedelic) mushrooms.
Davidson, 44, of Woodbury, Tennessee, was charged with Possession of Cocaine, Methamphetamine, Psilocybin, Schedule IV Drugs and Marijuana. He was also charged with Possession of Crack Cocaine for Resale. Davidson is due to appear in court on May 16.